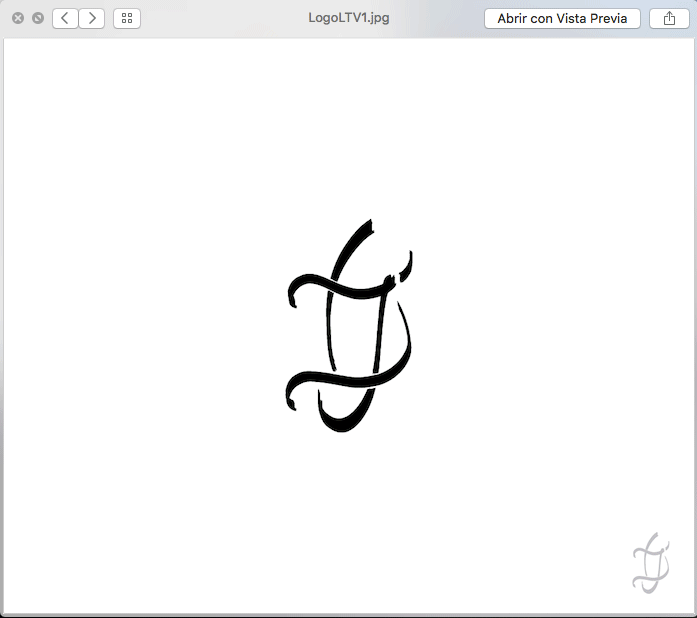 Calligraphic lettermark logo created for a digital design & development startup agency in financial technology, based in the UK.

They were looking for a black & white acronym logo that resembled a calligraphic Japanese monogram (Yakuza style), yet suitable for the financial industry. It had to give a serious, upmarket and elegant image with a rather feminine approach.

The result was an Oriental-like symbol composed by soft curves, that could also be used upside down to represent the acronym 'LT'.

Additionally, I suggested a bolder version in crimson red, given that red is a positive color used in formal settings in the UK.

I realized businesses aimed at women in the financial industry tend to use a soft color scheme, such as pink and violet. They portray a not so needed romantic sense that could be replaced by a more assertive style that regains authority and strength, without being aggressive.

Logotipo caligráfico creado para una startup de diseño y desarrollo digital en tecnología financiera, con sede en el Reino Unido.

Buscaban un acrónimo en blanco y negro que se pareciera a un monograma japonés caligráfico (estilo Yakuza), pero adecuado para la industria financiera. Tenía que brindar una imagen seria, sofisticada y elegante con un enfoque femenino.

El resultado fue un símbolo de estilo oriental compuesto por curvas suaves, que también podría usarse al revés para representar el acrónimo "LT".

Adicionalmente, sugerí una versión más audaz en rojo carmesí, dado que el rojo es un color positivo utilizado en entornos formales en el Reino Unido.

Noté que las empresas dirigidas a mujeres en la industria financiera tienden a usar un esquema de colores suaves, como el rosa y el violeta. Representan un sentido romántico no tan necesario, que podría ser reemplazado por un estilo más asertivo que recupere la autoridad y la fuerza, sin llegar a ser agresivo.
Logo created in Photoshop with different custom brushes and vectorized in Illustrator / Logotipo creado en Photoshop con diferentes pinceles personalizados y vectorizado en Illustrator.
Two Cranes Botanicals
2018
Two Cranes Botanicals is a wellness botanical in Colorado and Seattle that handles skin care products and natural remedies. They were looking for a versatile black & white logo, conservative but with a modern touch and a minimalist aesthetic.

They already had in mind that it would consist of two origami cranes representing longevity, well-being and good fortune.

That is how my concept emerged, capturing this essence through simplicity, while also implicating a bit the belief about the good fortune that two white doves bring to people.

The result, a pair of smooth and clean-lined cranes joined by their beaks, accompanied with a simple and geometric typography that offers elegance and modernity.

Two Cranes Botanicals es una botánica del bienestar en Colorado y Seattle que maneja productos para el cuidado de la piel y remedios naturales. Estaban en busca de un logotipo versátil en blanco y negro, conservador pero con un toque moderno y una estética minimalista.

Ya tenían en mente que estaría conformado por dos grullas de origami para representar longevidad, bienestar y buena fortuna.

Fue así como surgió mi concepto, capturando esta esencia a través de la simplicidad e involucrando también un poco la creencia sobre el significado de buena fortuna que existe en el símbolo de dos palomas blancas.

El resultado, un par de grullas de líneas suaves y limpias, unidas por sus picos, acompañadas de una tipografía simple y geométrica que le brinda elegancia y modernidad.
Logotype created in Illustrator / Logotipo creado en Illustrator.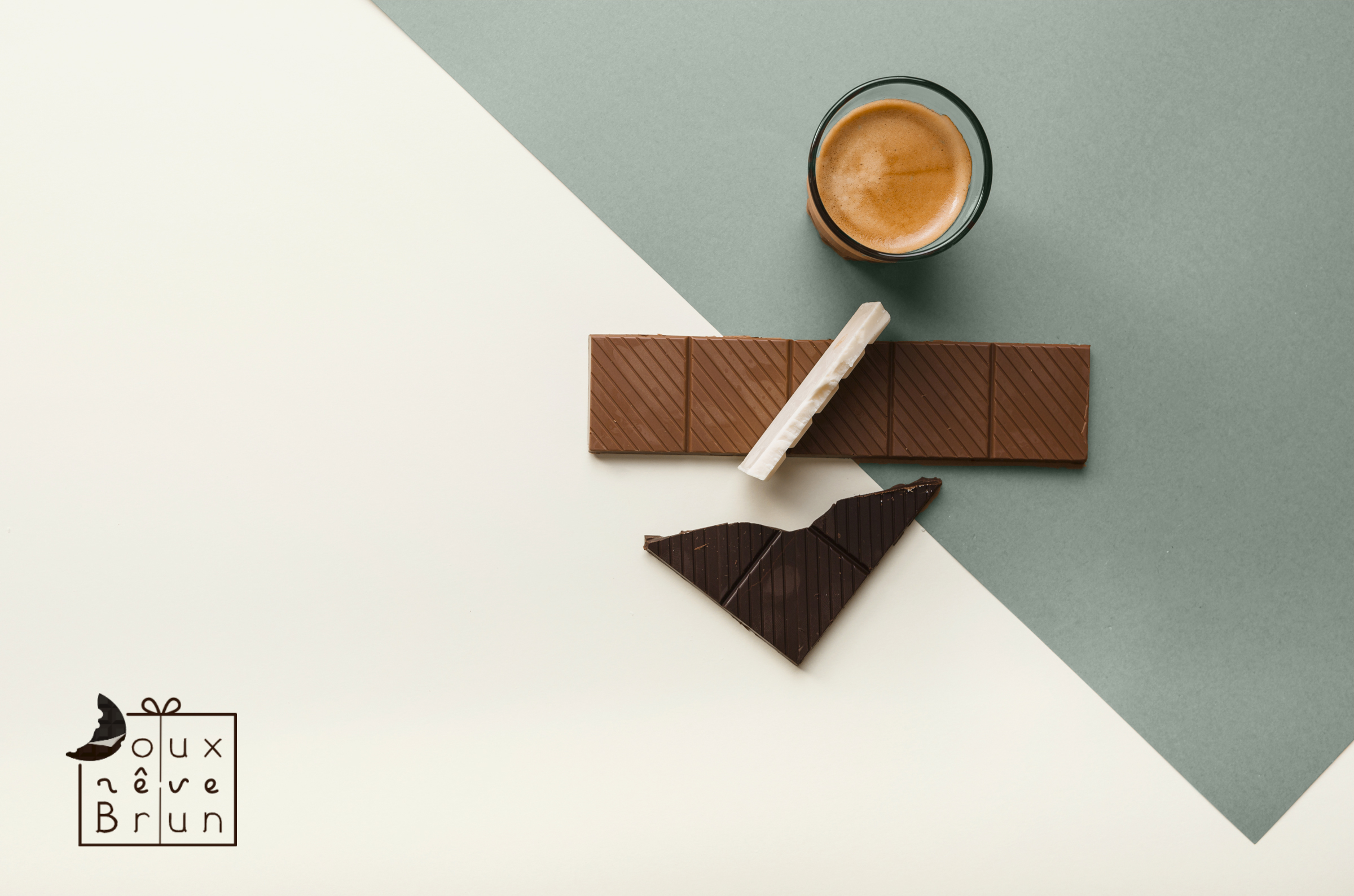 Doux Rêve Brun was born as a name and logo proposal for a company made up of two chocolate passionate people. Their concept: an online chocolate shop that offers designer chocolates in special boxes, which has different flavors that vary according to the season of the year. A kind of sweet Russian roulette.

As for the name of the brand, they were open to any suggestion, and for the logo; taking into account that these are exclusive chocolates, they were looking for a modern but light and playful design, which could be combined with different colors.

First, the name comes from a brainstorm, where playing with the words related to chocolate and looking to translate it into other languages, I get to combine three words -key for me- in French: doux (sweet), rêve (dream) and Brun (brown).

So we have:

Sweet brown dream

For the logo, I decided on two playful but modern typefaces with a rustic style, emphasizing the artisan process of chocolate production.

As a final touch, I liked the idea of the symbolism of a gift box and decided to graphically represent the name, adding a nibbled chocolate in the shape of a moon with its small silver wrap.

Doux Rêve Brun nace como propuesta de nombre y logotipo para una empresa conformada por dos personas apasionadas por el chocolate. Su concepto: una chocolatería en línea que ofrece chocolates de diseño en cajas especiales, las cuales contienen diversos sabores que varían según la temporada del año. Una suerte de dulce ruleta rusa.

En cuanto al nombre de la marca, estaban abiertos a cualquier sugerencia y, en relación al logotipo, al ser chocolates exclusivos, buscaban un diseño moderno y a la vez ligero y juguetón, el cual pudiera combinarse con diferentes colores.

Primero, el nombre surge de una lluvia de ideas, donde jugando con las palabras relacionadas al chocolate y buscando también traducirla a otros idiomas, llego a combinar tres palabras —clave para mí—en francés: doux (dulce), rêve (sueño) y brun (marrón/café).

Así nos queda:



Dulce sueño café


Para el logotipo, me decidí por dos tipografías juguetonas, pero modernas con un estilo rústico; haciendo énfasis en el proceso artesanal de producción del chocolate.

Como toque final, me gustó la idea del simbolismo de una caja de regalo y decidí también representar de manera gráfica el nombre, agregando un chocolate mordisqueado en forma de luna con su pequeña envoltura plateada.

Logotype created in Illustrator / Logotipo creado en Illustrator.